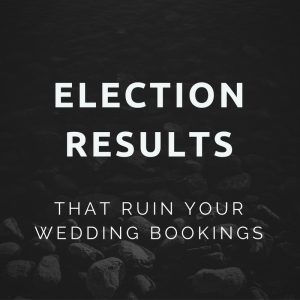 Election Results That Ruin Your Wedding Bookings
By Shannon Underwood, Conference Director
Your brides and grooms might buy differently simply because their candidate wins or loses.
If the bride and groom's presidential pick wins, they might be more confident about the economy and taxes, justifying a bigger spend with you.  If their presidential choice loses, they might hold off and book with a wedding pro that charges less or wait until closer to the wedding date.  
Buying is emotional, and their decisions are not based on objective analysis; just feeling scared about the future is enough to get wedding couples to temporarily put a holt on wedding buying.  
In a survey of buying behavior, Gallup found that after a presidential election, people whose candidate lost spent less.  If their candidate won, they spent more!
Politics skew our buying decisions.  Don't take a chance; ask couples to put down their deposit and sign the contract now.
Moral of the story:  Do bridal shows, social media campaigns, and online promotions before November 8 to maximize your 2016 wedding sales.
Want to see more content?  Head here to see everything we offer.
Leave a Reply
You must be logged in to post a comment.