By Shannon Underwood, Conference Director Wedding MBA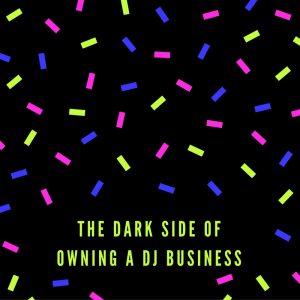 Wedding couples don't understand what they are paying for.
The success of the reception depends on you. The hours put into the planning are sometimes unknown to the client.
Brides and grooms are not paying for music. They are paying for an event producer, MC, entertainer, psychologist, game host, and psychic.
Solution: Stop telling your potential customers what they are paying for, show them. The best way to illustrate why you charge so much more than your competitors is to show a video of the worst case scenario.
You can produce your own in house video that works as a commercial featuring you.
Or you can show an actual wedding gone wrong. Just google bad wedding DJ show what could happen if they choose that $500 Craigslist DJ.
In-person song requests throw you off your game.
Is the client the person standing in front of you asking for their favorite song to be played?
Or is it the person paying you?
Wedding guests take an invisible role in the wedding planning process for things like the flowers, favors, or food.
DJs are different.
DJs are the most visible vendor at the reception.
What do you do when the newly engaged maid-of-honor requests a song on the wedding couple's do not play list?
How do you protect your allegiance to the bride and groom while still trying to secure future bookings?
Solution: During your pre-wedding consultation discuss this type of scenario and ask your couples how to handle song requests. Discussing this beforehand this eliminates any potential dissatisfiers.
Go Here to REGISTER and see more DJ Content
Here's what DJ's had to say on Facebook:
Joseph S Testa speak to the B&G about it, they are who you need to please for their wedding.
Like · Reply · 2 · 18 hrs
Jeremy Gleason Wrong. Already on do not play list. Would you want to be bothered with an already answered question?
Like · Reply · 3 · 17 hrs
Mike Lupo Damn right that's wrong.
Like · Reply · 1 · 14 hrs
Gigi Halsing I would suggest stating to the requested person that it's not allowed to be played that night. Nothing more to say except you'll gladly play anything else for her.
Like · Reply · 4 · 18 hrs
Shawn Whittemore Your one and only priority must be your couple. The maid of honor will certainly understand when it is explained nicely. A request can always be made to the couple, but I wouldn't play anything on the no-play list without that approval.
Like · Reply · 3 · 18 hrs
Malissa Cunningham Cox Explain nicely that for one reason or another it is on a do not play list from your client. Normally understood by the requester.
Like · Reply · 4 · 18 hrs
Jeremy Gleason Then they go straight to the bride and harass her. They come back and say the bride said it's ok, you play it and it turns out the bride didn't give permission and is pissed not only that you played it, but that you sent the guest to them to bother them suet they already said they didn't want the song played.
Like · Reply · 17 hrs
Larry Williams First, you should always worry less about future bookings and more about your clients. Maid's-of-Honor are always trying to pull rank with requests, flow, arrangement of traditions etc. It's important that they understand that an overwhelming majority of things (like requests, flow and announcements etc,) have already been pre-discussed with the B & G and that the program (as it is being implemented) is in direct response to the wishes of the B & G.
Like · Reply · 5 · 18 hrs
Leave a Reply
You must be logged in to post a comment.