By Shannon Underwood, Conference Director Wedding MBA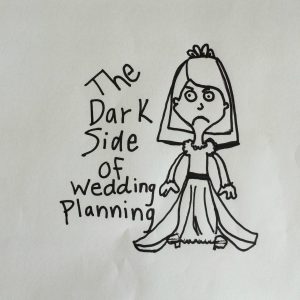 This is the Dark Side of Wedding Planning.
Your old college roommate offers to take you for coffee.
Then asks you to plan her entire wedding for free.
You hold her dress while she pees.
You redo her makeup when she says she looks like a prostitute.
You feel like a stalker after you make repeated calls to "professionals" to confirm details they should have told you a month ago.
You apologize profusely that it rained, because obviously, that was your fault.
You think , "I told you so" when the red-faced, tantruming two-year-old ring bearer ruins the processional.
You wrestle a very drunk 200-pound groomsman for his car keys.
You fake a power outage when the maid of honor reveals that she once dated the groom.
You tell fresh-faced twenty-one year old that wedding planning is easy.
REGISTER NOW to hear all Wedding Planner Content Here
Real Stories from Real Planners, join the discussion below:
" I have a wedding this month and the MOB asked if I could skewer 200 ears of corn for the buffet. Nope!"
Amber Peterson, Cheers Wedding Planning & Design- Wasilla, Alaska
" A groom demanded I tie his shoe and put a band-aid on his finger."
Kristin Wroblewski, Owner Coordinator Timeless Events Waukesha, Wisconsin