A Brief History Of Everything Floral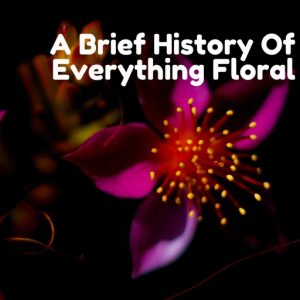 What do brides and grooms want in their 2018 bouquets?
Pack your bags and board our time travel machine.
Ready, set, go!
1920's History: The first rules for arranging flowers begin.
Wedding Trends: Flapper inspired floral designs. Peacock feather bouquets, garden flowers, triangular and circular arrangements.
1930's History: Inspirational florist Constance Spry introduces light and delicate wedding flowers; a change from heavy arrangements.
Wedding Trends: Wearable floral art. Nancy Beaton trailblazes this trend.
1940's History: Wartime weddings leave little time for preparation and depends on the groom's furlough. The couple is engaged on Monday. Invites go out on Wednesday. Ceremony on Monday.
Wedding Trends: Baskets of flowers for simple weddings. Society weddings include structured bouquets.
1950's History: Fast changes are underway – families have more money, move to the suburbs, and crime is low.
Wedding Trends: Round hand-tied bouquets have formal shapes with roses, peonies, and green foliage. Jacqueline and JFK marry in 1953. She carries an orchid bouquet. Her veil is held in place with traditional orange blossoms. Local autumnal chrysanthemums decorate the church and dinner tables.
1960's History: Man lands on the moon. JFK and Martin Luther King are assassinated. Vietnam and civil rights protest continue.
Wedding Trends: Bohemian flower-child inspirations. Color choices include hot pink, lime, and orange. Centerpieces have colorful flowers in neutral containers. Flowers of choice include: garden roses, zinnias, petunias, and daises.
1970's History: Richard Nixon resigns from office. Bill Gates created Microsoft. Steve Jobs and Mike Wozniak found Apple Computers. Video arcades explode in popularity.
Wedding Trends: Flower crowns and pastel bouquets including carnations and baby's breath.
1980's History: Cabbage Patch dolls cause hysteria. Lady Diana marries Prince Charles. Return of the Jedi, E.T., and Pretty in Pink are the blockbusters at the theaters. MTV popularizes music videos.
Wedding Trends: Lush cascading bouquets with long ribbons. Ferns and apple blossoms act as filler.
1990's History: Video games consoles ignite in popularity. Teddy Ruxpin reads to you child and the internet gains commercial access. Google is founded and cell phone ownership explodes.
Wedding Trends: Bouquets become small and chic. Fresh flowers adorn wedding cakes.
2000's History: The housing bubbles and dot-com bubbles burst. DVD replaces VCR's, and celebrity food shows gain popularity.
Wedding Trends: Over-the-top floral installations inspired by celebrities. Preston Bailey make flowers an idyllic focal point.
Whew, time travel is tiring.
Like what you read? Register for the 2017 Wedding MBA
Follow us on:
twitter: @weddingmba
instagram: theweddingmba
Leave a Reply
You must be logged in to post a comment.