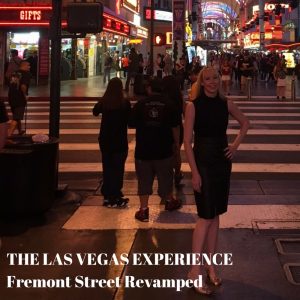 Fremont Street Revamped
By Shannon Underwood
Before this trip, the last time I visited downtown Las Vegas, the area needed a face-lift.
I was pleasantly surprised on a recent visit with the obvious renovations and improvements.
Then entire area looked glittery and new.
Things I liked:
The lights and signs were bright and nostalgic.  While walking around people watching was entertaining.
Next time I might muster up the courage to try the SlotZilla Las Vegas Zip Line. This looks incredible – protip – do this at night to experience the sensational colors.
We ate at Park On Freemont and the craft beer selection was epic.  The summer salad had a fresh mix of gorgonzola cheese, berries, and candied pecans.  The soft pretzel bites had the perfect amount of salt and the cheese was fantastically gooey. I can't remember what my husband ordered, but I know it wasn't a salad, and it may have moo'd at one point.
The convenience and value of Lyft, is so much more reasonable than a taxi.
Things I could do without:
The adult man dressed as a diaper baby collecting money from each onlooker that wanted a photo-op.  Full disclosure, I stared at him longer than I should have.
Heart Attack Grill, this place looked like a hospital, and the waitresses are dressed as nurses. The fluorescent lighting and greasy food is not my style, but wow was that restaurant busy.
For even more adventure suggestions, follow this blog
Register for the 2017 Wedding MBA, where we have 2 days of specialty seminars.
You can also follow us @weddingmba and therealweddingmba for our latest information.
Leave a Reply
You must be logged in to post a comment.