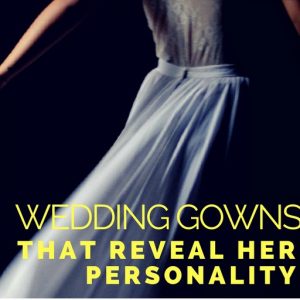 Do you ever wish you were clairvoyant?  Having the ability to prognosticate your future clients could potentially help you find your perfect bride-to-be fit. Below we look into our crystal ball to help you, the planner, find your perfect bride match based off of her dress selection.
Princess Gown:
This bride insists that her bridesmaids paint their nails with the same shade of pink.  Full disclosure, I did this as well.  In my defense, I was very young.
She's fussy, young, and naively assumes that her parents are paying for the entire wedding. She wears strobe effects on her cheeks and uses glitter eye shadow.
Ultimately, she gets married at a hotel
Planner Problem:
The rowdy, red-faced fraternity brother, groomsman are a nuisance. It also doesn't help that they give inane, self indulgent toasts either.
Planner Solution:
When you start to see the interest wane in the guests, have the DJ slowly fade in music to play them off like an awards show (think the wrap it up box from Chappelle's Show).
Planner Problem:
The bride's sister and mother are her best friends, rendering her incapable of deciding anything on her own.
Planner Solution:
Always invite the entire posse.  Use email, text, and phone calls to encourage full engagement.  Not doing so will will essentially be a waste of time as you will have to reorder, re-plan, and redo everything.
Sheath Gown:
This bride seems thoughtful, articulate, and innocuous at first.  However, underneath lies an monster awaiting to emerge regardless of what goes wrong. She has has simple, yet expensive tastes. She me her husband in the Hampton's.
Planner Problem:
She will quietly disapprove and later write a bad review about your services.
Planner Solution:
Get her written approval for all changes regardless of the change.  She could come back to haunt you.
See-Through Panel Gown:
This bride actually thinks she's famous. She uses Instagram and Snapchat while she is having a conversation with you, and will only break away from her screen when she is angry.
She spends all her money on things she can blog and brag about. You feel awkward looking at her in that dress because she looks kinda naked. She creates a lip sync video starring herself that she plays for her groom at the reception.
Planner Problem:
Since she blew her budget on a Videographer from New York, and a Photographer from Los Angeles, she has little to no money leftover to feed her guests.
Planner Solution:
Sit down with her to plan an honest budget. Make sure she factors in your overtime for getting the event Pinterest ready.
Last Season's Strapless:
This brides home is decorated in all thing Hobby Lobby.  Shocker, she still loves burlap and mason jars. She's as laid back as they come, and doesn't fall apart if things go wrong. She would get married at a park or her backyard if given the chance.
Planner Problem:
She is low maintenance and will cause you minimal stress, but will be less likely to try new trends.
Planner Solution:
Get her to try fresh looks that feel natural to her, but won't ruin your portfolio.
Going-Away Dress:
This bride is over-educated and classy. Her favorite movies are Breakfast At Tiffany's and Father of the Bride.
Planner Problem:
She is organized to the point of exhaustion and has an exact vision of what she wants and gets frustrated when you don't 'get' it.
Planner Solutions:
Ask her to create a dream board that clearly identifies what she likes in each picture. Ask her about all details even if it seems minor.
Final Thoughts:
Every bride comes with a set of challenges and joys.  Sometimes a sense of humor makes every problem feel smaller.
For more awesome Planner information, register for the 2017 Wedding MBA
Follow us on Twitter and Instagram!
Leave a Reply
You must be logged in to post a comment.