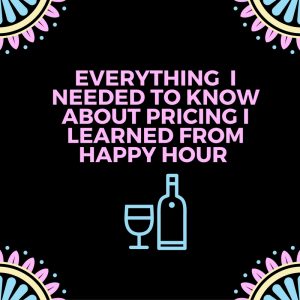 Happy Hour has a set start time and a set end time.  So should your special offers.  Translation: Only offer discounts for off-season and mid-week weddings.  Restaurants charge full price on Friday and Saturday evenings, but have a Reverse Happy Hour starting at 9:00pm. Save your special offers for less-popular wedding dates.
Small discounts make a big impact.  $1.00 off beer and well drinks is only a 12% discount on average, but makes the customer feel like they are getting a good deal.  Translation: A little mark-up so you can slash down the price will make your nearly-weds feel better about their purchase and less likely to get buyer's remorse.
There are some things you should never charge for.  Chips and salsa, bread and butter, and water are usually complementary.  Translation: Don't charge for cake-cutting, linen cleaning, extra audio speakers, or anything that seems ridiculous to an outsider.  Build in the extras to your overall cost so your clients don't feel nickel-and-dimed.
Happy Hour is more about a feeling that a discount.  Happy hour is a celebration of the weekend to come; the hope, that you will find fun over the following 48 hours.  Translation: Infuse joy into your brand.  Make every visit to your venue, photography studio, or gown shop feel like having a Cosmopolitan at your neighborhood hot spot.
For even more tips, Register for the 2017 Wedding MBA, where we will have 2 days of specialty seminars.
You can also follow us @weddingmba and therealweddingmba for our latest information.
Leave a Reply
You must be logged in to post a comment.