The Renaissance Las Vegas: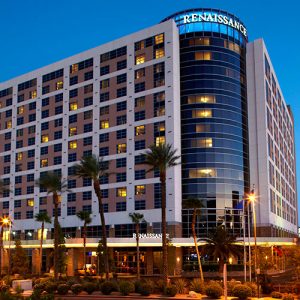 If you are looking for a super close hotel to the Las Vegas Convention this is our favorite choice.
Pros:
A stress free walk from the hotel to the South Building of The Las Vegas Convention Center – less than 5 minutes!
Envy steakhouse…yum and yum
Modern, clean, quiet, and non-smoking rooms
It's a Marriott property (use those points)
Bed and pillows are super comfy
Cons:
No gaming or entertainment
Only one full service restaurant
Courtyard pool is visible from the lobby.  If you swim, be ready to be seen in your bathing suit by everyone.
Regarding Envy Steakhouse at the Renaissance Hotel
The wedge salad with blue cheese is to die for, and the steak is always cooked perfectly.  Waiters present you with different types of salt; the best being the smoked alder wood and the red clay salt.  Don't judge, but I always take my bread and butter to go because I love it so much.
Envy gave us the best service I have had in the last 12 months.  If you go, ask for Joshua, he excels at his job.
Stay tuned to  Vegas Adventures for more helpful information.
Use promo code BL5259 to get your Early Bird Special
*This is not a paid endorsement, simply first hand experience by the Wedding MBA.
Leave a Reply
You must be logged in to post a comment.