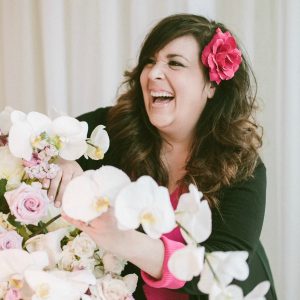 The best thing about speaking.
I get to educate and help, and mostly because it's an acceptable place for me to be LOUD!
The best thing about owning my own business is. 
Getting to make a bride's childhood wedding dreams become a reality.
Your favorite podcasts and business books.
She Creates Business podcast, The Creative Empire podcast, Bosses and Booze podcast, and Grace Not Perfection by Emily Ley
If I had to pick another career path I would choose.
If I could choose another career path I would be a professional singer. Actually, I did choose that, it just didn't work out! Which is why I'm a floral designer speaking at Wedding MBA 🙂
Your biggest vice.
I cuss too much, but I still love Jesus!
CeCe is a first-time speaker.
Her Monday seminar for Florists is titled – Pop Up Flowers: Facebook Live For Florists
Come back the same time next week to meet another Wedding MBA Speaker.
Leave a Reply
You must be logged in to post a comment.