By Shannon Underwood, Conference Director Wedding MBA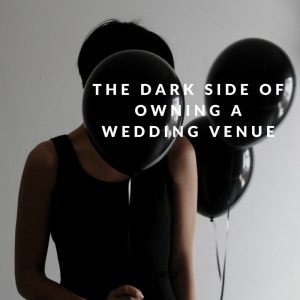 You get blamed for everything.
Other wedding pros think you are controlling. They don't understand that any misstep will reflect on your venue.
Twenty minutes before the first guest arrives, your venue's preferred caterer unloads his truck and takes a shortcut through the ceremony location. He drops his chafing dish full of Swedish meatballs and gravy onto the white custom aisle runner.
The mother of the bride stops smiling for the camera when she sees the catastrophe. She bursts into tears. You pull together your staff to spot clean the runner. Your staff is being abused because "you have ruined the wedding."
Your staff cleans vigorously, but to no avail the spots are not budging. You send your sales manager to the grocery store to buy bunches of flowers so the petals will cover the mishap.
Solution: Fix the problem when you can, whether it's your fault or not. Ultimately, everything that goes wrong at your venue is your fault.
Guests/Brides/Moms/Drunk People are always losing stuff.
The phone can't be found. Money goes missing. Sunglasses, wallets, earrings, and jackets scatter everywhere.
Last week, our nine-year-old son had five of his friends over to go swimming. The next day, I noticed a towel, hat, and sock were left at my house. If I had 200 people over every Saturday, I'm sure the lost and found pile would be enormous.
Solution: Offer a locker with a key to the VIP guests. If a locker won't work in your venue, try a storage solution with labeled bins. To avoid being over-run with other people's stuff; donate non-valuables 30 days after the wedding once you have contacted your brides and grooms. Make sure to write it into your contract.
Real Stories from Real Owners
From: harold@thewindmillwinery.com
To: shannon@WeddingMBA.com
Hi Shannon,
This is a great topic for wedding venues I wish someone was talking about the pitfalls of owning a venue when we started. I will say that the objective is not to have our guests, especially the bridal party, aware of the issues that go on.
You are spot on with the idea that we get blamed for everything, and your examples have all happened to us over the years. Vendors, guests and even some of our staff think a wedding happens magically.
We have seen the biggest change in the industry as the millennial generation has evolved.
The expectations are amazing to see. It starts with the initial contact. If we don't answer an inquiry in the first few minutes ,we lose them as they go on to another venue. It doesn't seem to matter what our contract says… our brides and grooms have expectations the expectation that all add-ons are free of charge.
We have had groups book for 150 people and 170 show up. It's our fault that we were not prepared for them and of course the caterer is devastated because he runs out of food; which also become the venue's fault.
Last quick story. We had a great couple with a themed wedding, Dr.Seus.The maid-of- honor came up to me and asked that I tell the bride's mother to leave because she wasn't invited. Other guests overheard and thought that I kicked her out. It took a while to get everyone to understand that it was a family issue.
OK, one more. We had a New York photographer hired by the bride for their wedding. The photographer disappeared after the wedding with the pictures. You can guess who was blamed. We had never met the photographer, but we ultimately tracked him down and shamed them into giving the photos to the couple. Brides wonder why we have a preferred vendor list, this is why.
I don't know if this helps much. I'm heading to the winery to cool off. Looking forward to the Wedding MBA. I love what you are doing for wedding venues everywhere!
Cheers.
Harold Christ
The Windmill Winery
www.thewindmillwinery.com
Solutions to your venue problems to be continued…
To hear the rest of the stories, come to the Wedding MBA, October 3-5th in Las Vegas. The venue track is filled with content driven problems and solutions.
Register today for your wedding venue discount!
Leave a Reply
You must be logged in to post a comment.