By Shannon Underwood, Conference Director, Wedding MBA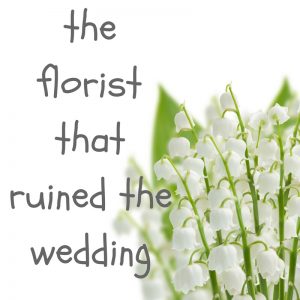 Last April, I was the maid of honor at my best friend's wedding.
I recommended that Kara use a local florist that had an impeccable reputation. She trusted me.
The wedding day arrived, the bride looked amazing. The room was set.
All fifteen tables were draped and covered with extravagant centerpieces.
The photographer requested that I grab the bouquets for the photos.
I asked the onsite coordinator where the bouquets were. She said she didn't know.
She looked in the bridal suite refrigerator; they weren't there.
I called the florist and got voicemail…ten times in a row.
The other bridesmaids began to gather flowers from the centerpieces and tie them together with stray ribbon to create only the bride's bouquet.
It looked hideous. I felt sick. I trusted the florist and my friend trusted me.
At 10:00 that evening after the vows were exchanged, the toasts given, the dances danced, and the food eaten, I received this text message.
Florist: " I am so sorry, I had my phone off. I left all 8 bouquets and boutineers in the restaurant's refrigerator at 9:00 am this morning."
Lessons learned:
•Require that a delivery form is signed by the client or her designated representative assigned before the wedding day. Include specific care instructions.
(For flowers, the refrigerator is good BUT the freezer is NOT better. Flowers should be kept at temperatures between 34-36 degrees.
•Always keep your phone on during days you have weddings.
Tell us how your persevered when things didn't go as planned.
Leave a Reply
You must be logged in to post a comment.